EXTRA! EXTRA! READ ALL ABOUT IT!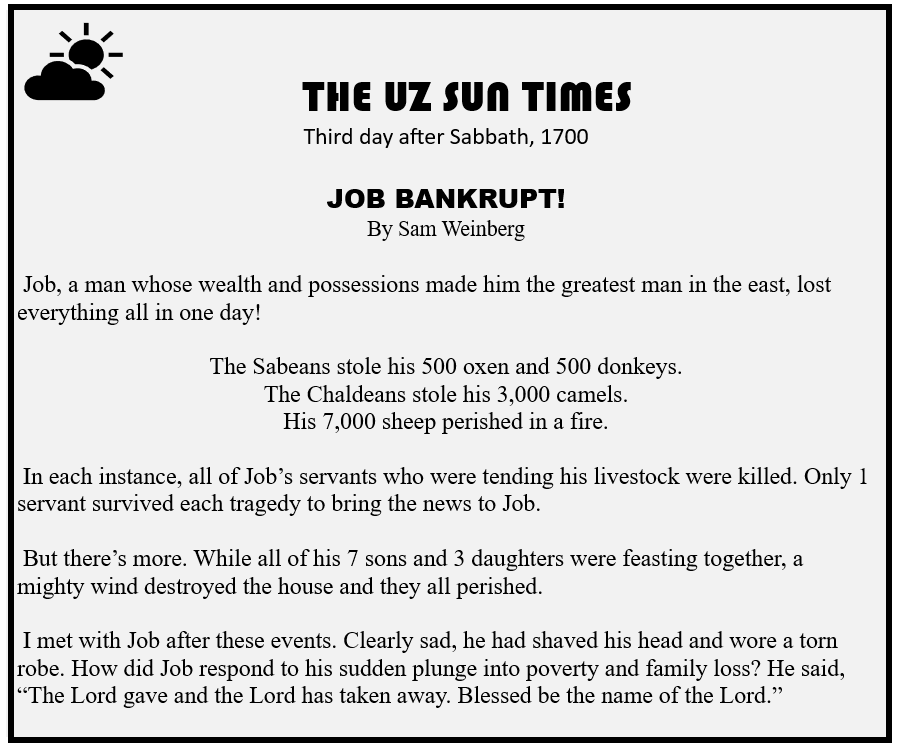 The reality was Job lost everything, even his health, (Job 1:13-21, 2:7).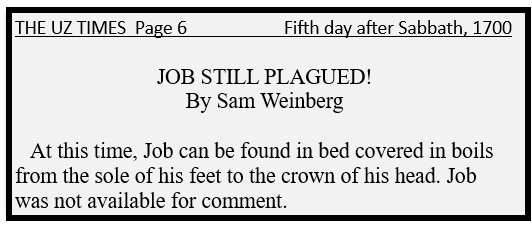 BUT THERE WAS ONE THING JOB DIDN'T LOSE;
HIS FAITH IN GOD.
We may never face a situation like Job where we lose everything.  However, the reality is that we will face difficult situations.
JOB'S REALITY;
Depression
Grief
Pain
Turmoil
Rejection
IS ANY OF THIS YOUR REALITY?
Our Lord longs to show us how much He loves us. Why didn't He do that with Job? God did. Just not in the way we imagine.
Perhaps looking at reality from a different perspective will help us understand.
OUR REALITY VERSUS GOD'S REALITY.
OUR REALITY?
Why? Why? Why?
GOD'S REALITY?
He knows why.
Why did Job lose everything? Only God knows.  In His love for us, He allows the trials knowing their purposes, length and how He can use them for everyone's good. Because whether trials are private or splashed across the front of the newspaper, they will affect others besides us.
We may never know the answers or understand the purposes for our trials, but God knows.
Oh, the depth of the riches both of the wisdom and knowledge of God!
How unsearchable are His judgments and His ways past finding out!
 Romans 11:33
Faith is trusting that our Heavenly Father knows best even when we don't have answers.
OUR REALITY?
Our situation is tough.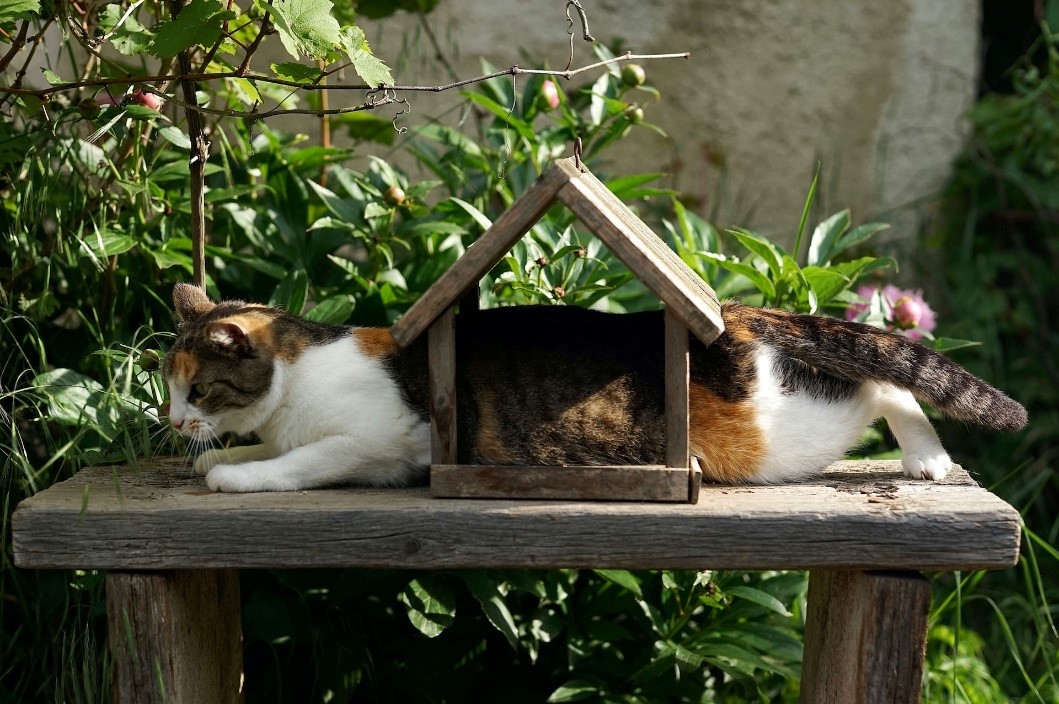 GOD'S REALITY? 
He is tougher.
Even when we get stuck, God's reality is that no situation is too hard for Him. He is tougher than anything we face.
When the going gets tough,
the tough get going,
with God
to victory.
Behold, I am the Lord, the God of all flesh. Is there anything too hard for Me?
 Jeremiah 32:27
OUR REALITY?
Overwhelmed!
GOD'S REALITY?
He is in control.
If we become overwhelmed when facing difficult situations, what do we do? Pray, looking past our reality and seeking God's perspective remembering that God is in control.
The Lord has established His throne in heaven,
And His kingdom rules over all,
 Psalm 103:19
Like Job, we may feel even more overwhelmed as friends bombard us with bad advice and accusations.  Whatever well- meaning advice we receive from others should be tested against the only truth there is; God's truth.
Sanctify them by Your truth.
 Your word is truth,
 John 17:17
OUR REALITY? 
Feeling abandoned
GOD'S REALITY? 
He is with us
When we are stuck in a difficult situation, when we don't hear from God, will we feel abandoned? I don't know. But I do know, that because the Lord loves us, He promised to never leave us.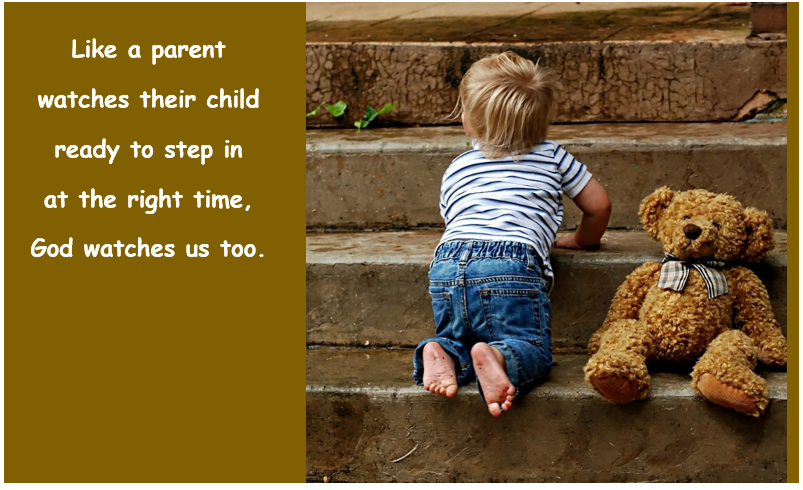 When we can't hear God, we can have faith that He is there. He will make Himself known at the perfect time just like He did for His child, Job.  Just like we will do for our children.
God is faithful and true to His promises. He will not abandon us. He sees what we are going through and is with us every step of the way.
And the Lord, He is the One who goes before you. 
He will be with you,
He will not leave you nor forsake you;
do not fear nor be dismayed,"
Deuteronomy 31:8
GOD'S VICTORY
What happened to Job?
(Job 42:1-17)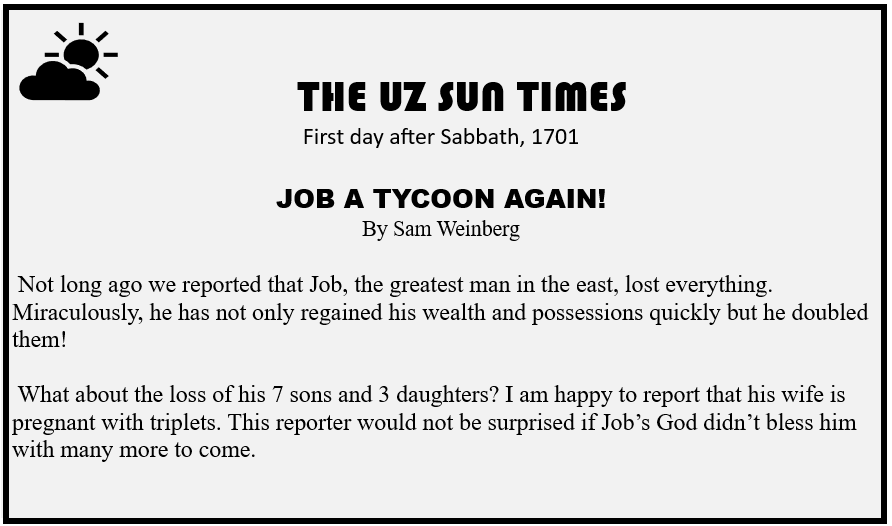 Most of us would think God's victory was in Job's restoration. Was it? Not entirely.
Through Job's loss, God showed Job His love by sustaining him and showing Job his heart. God showed Job's friends His love by showing them their hearts too.
God is in the business of changing hearts, changing lives. When that happens, that's the real victory. A victory that lasts.
LET'S CHANGE OUR REALITY
TO REFLECT GOD'S REALITY
AND EXPERIENCE A VICTORY THAT LASTS.
REFLECTION
What's your reality? By faith can you believe God's reality?
PRAYER
Heavenly Father, as I write Jeremiah 32:27 and say it aloud, show me my situation from Your reality. Help me to embrace Your reality. Change my heart to receive Your lasting victory in my life. In Jesus name. Amen.
FAITH SEES GOD'S REALITY.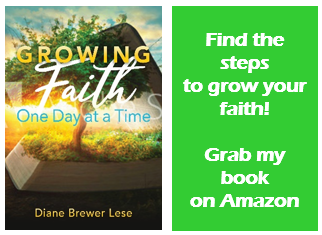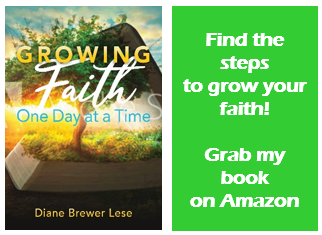 May your day be filled with love and laughter!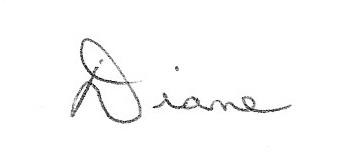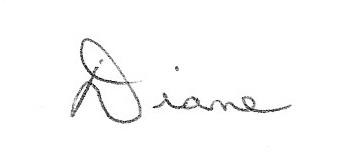 ________________________________________________________________________________________________
For information on making Jesus Christ your Savior, email me or visit, http://www.peacewithgod.net/
Photo cat, Tomas Tuma
Photo child, Laura Retyi