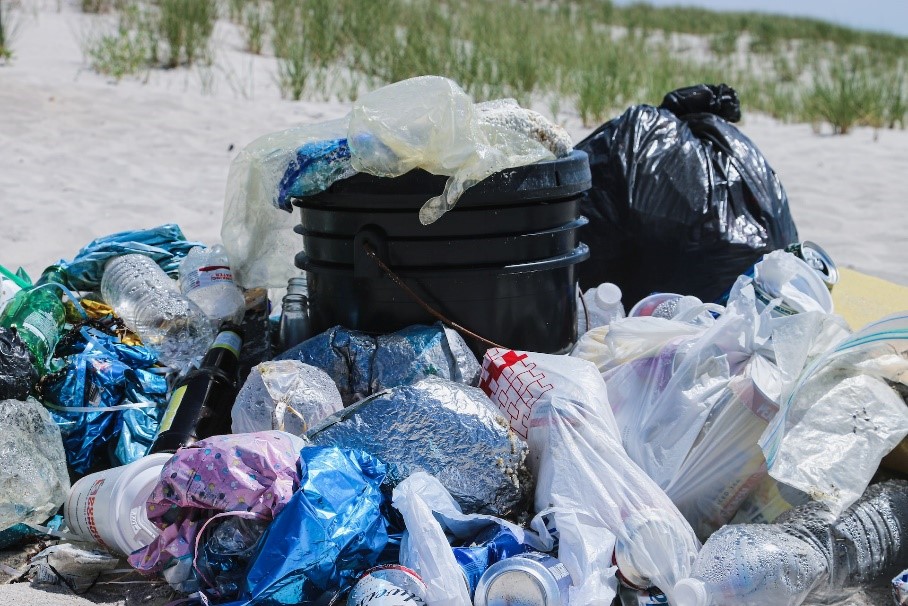 Did you know that in 2018 Americans generated 292.4 million tons of garbage? That's 4.9 lbs. of waste per person daily! 1
No, this blog is not about recycling, it's about the smell. Garbage! The odor is offensive. And the longer it sits the stronger and more offensive the smell grows.
Imagine carrying a bag of smelly garbage with us everywhere we go.
The odor would permeate our clothes, our house, everything!
NONE OF US WOULD CARRY
A BAG OF SMELLY GARBAGE AROUND,
OR
WOULD WE?
Unknowingly we all do it at one time or another.  The garbage we carry is unforgiveness. It is a collection of all the offensive behavior and words others have aimed at us.
The longer we carry it, the stronger the smell grows. It penetrates our hearts affecting everything we say and do.
"But those things which proceed out of the mouth
come from the heart, and they defile a man,"
Matthew 15:18
CARRYING AROUND UNFORGIVENESS GARBAGE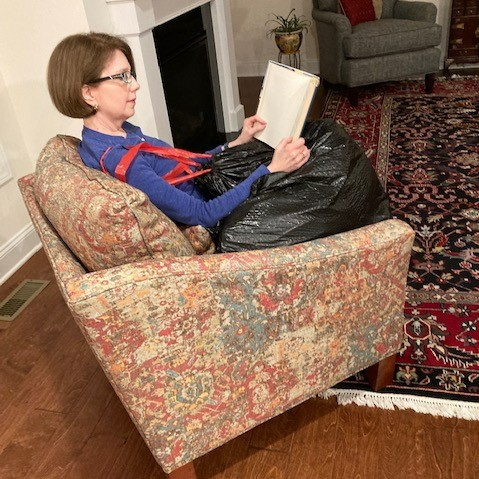 HURTS IN 3 WAYS;
1. IT HURTS US
Unforgiveness weighs us down.  Just the strain of carrying it around can raise our blood pressure. And sleep? Who can sleep with a bag of garbage attached? 2
The Lord wants us to love ourselves enough to forgive ourselves.  He wants us to throw away the garbage and stop carrying around the guilt for our past.
And the second (commandment), like it, is this:
'You shall love your neighbor as yourself.'
There is no other commandment greater than these,"
Mark 12:31
If we have asked God's forgiveness, in His great love for us He has forgiven us. So, we should forgive ourselves, (1 John 1:9).
2. IT HURTS OTHERS
When we don't forgive, it puts a barrier between us and others. Just like the commandment above, the Lord wants us to love our neighbors as much as ourselves.
Forgiveness doesn't mean accepting someone's offenses or agreeing with their choices. It doesn't mean we have to be a door mat or be abused, (Matthew 10:16).
It does mean forgiving someone in spite of what they do.
Bearing with one another, and forgiving one another,
if anyone has a complaint against another:
 even as Jesus forgave you, so you also must do,
 Colossians 3:13
Perhaps our words or actions will turn the offender's heart to Jesus.
Pursue peace with all people and holiness,
without which no one will see the Lord,
Hebrews 12:14
3. IT HURTS OUR RELATIONSHIP WITH THE LORD.
Have you ever thought you could have unforgiveness towards the Lord? When we blame Him for our circumstances or even other's circumstances, we are not forgiving Him.
It's hard. There is good and evil in this world and we won't always understand why things happen.
Be sober-minded; be watchful.
 Your adversary the devil prowls around like a roaring lion,
 seeking someone to devour,
 1 Peter 5:8 ESV
However, by faith, we can believe that the Lord loves us and can use all things for good, (Romans 8:28).
LET'S LIGHTEN OUR LOAD!
THROW AWAY UNFORGIVENESS BY FORGIVING!
HOW DO WE FORGIVE?
MAKE A DECISION
Forgiveness is not a feeling, but a decision we make in obedience to the Lord. When we forgive, God in His mercy forgives us. He asks us to extend that same mercy to others.
"And whenever you stand praying,
if you have anything against anyone, forgive him,
that your Father in heaven may also forgive you your trespasses,"
Mark 11:25
SEPARATE
Although the offense may be bad, the person has value. By separating the person from the offense, we can find compassion and love for the offender.
HAVING TROUBLE FORGIVING?
PERHAPS THIS TRUE STORY WILL HELP;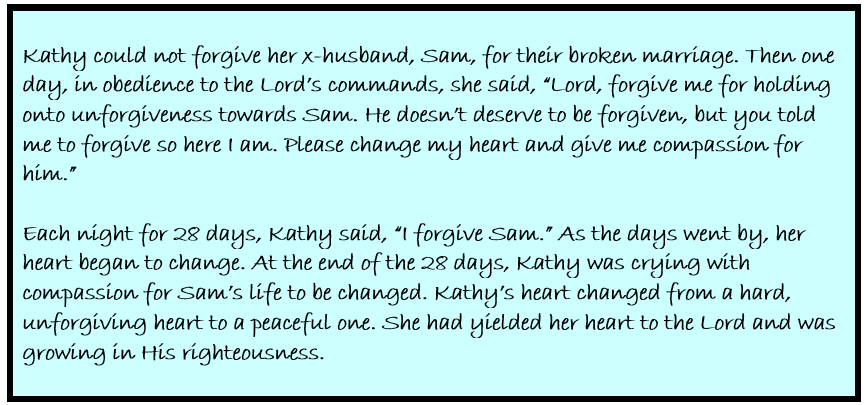 Forgiveness is as much about freeing ourselves as it is about others. We cannot control others, but with the Lord's help, we can forgive and get rid of the garbage before it penetrates our hearts.
LET'S BE QUICK TO FORGIVE,
THROWING AWAY OUR GARBAGE
AND PUTTING IT WHERE IT BELONGS PERMANENTLY –
IN THE TRASH!
REFLECTION
Are you carrying around any unforgiveness?
PRAYER
Heavenly Father, as I write Mark 11:25, and say it aloud, bring to my mind those I need to forgive. I am sorry that I have held onto unforgiveness. Help me to throw that garbage away. In Jesus name. Amen.
BY FAITH
THROW AWAY THE GARBAGE
& FORGIVE
May your day be filled with love and laughter!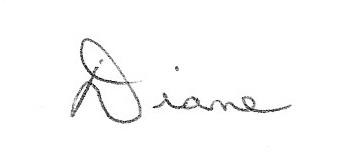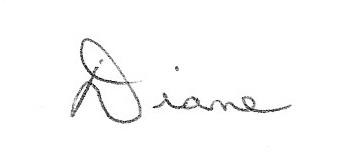 ________________________________________________________________________________________________
For information on making Jesus Christ your Savior, email me or visit, http://www.peacewithgod.net/
1 epa.gov
2 Hopkinsmedicine.org
Photo garbage, Brian Yurasits