Darting in and out of the bushes was a skinny little kitten. Placing a bowl of milk in the yard, Stacy quietly sat down waiting for the kitten to come out of hiding.  "Huh? What's that?" wondered the kitten. Cautiously, she crept out of the bushes and approached the bowl.  Eyeing Stacy suspiciously, she quickly lapped up the milk and skittered back to the bushes.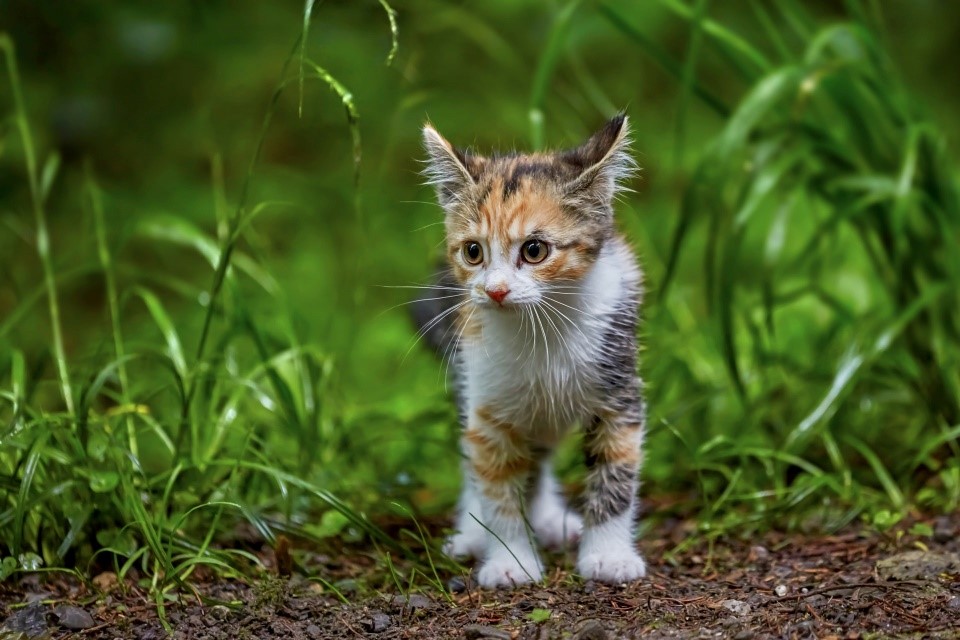 Stacy softly sang as she put out bowls of milk and food each day. Her singing became a call to the kitten. "Oh boy! It's time to eat!" thought the kitten eagerly racing to the bowls. BOOM! "Yowl!" Running into the bowls she spilled the milk. "Ahh! I messed up!" cried the kitten fearfully dashing back into the bushes.
When the kitten would come to eat, Stacy would quietly speak loving words. "Humm. Can I trust her?" pondered the kitten. Uncertain but curious, she timidly approached.  Carefully, Stacy put out her hand. Fearful the kitten backed away, "Nu uh, not yet!"
Patiently Stacy waited for the kitten to make the first move.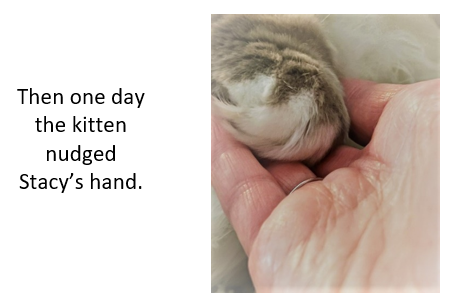 "Maybe she's ok," thought the kitten. Slowly walking into Stacy's palm, she climbed up and sat in her lap. Stacy continued to speak gently petting the kitten. "Murr," sighed the kitten, "This must be what it feels like to be loved."
SUSPICION, FEAR AND UNCERTAINTY.
Isn't that how the kitten first viewed Stacy? But the kitten's view changed.  Stacy's actions, gave the kitten glimpses of Stacy's love.  Biased by our experiences, our view of the Lord can be either like the kittens first impressions of Stacy or the last.
HOW DO WE VIEW THE LORD?
DO WE THINK LIKE THE KITTEN?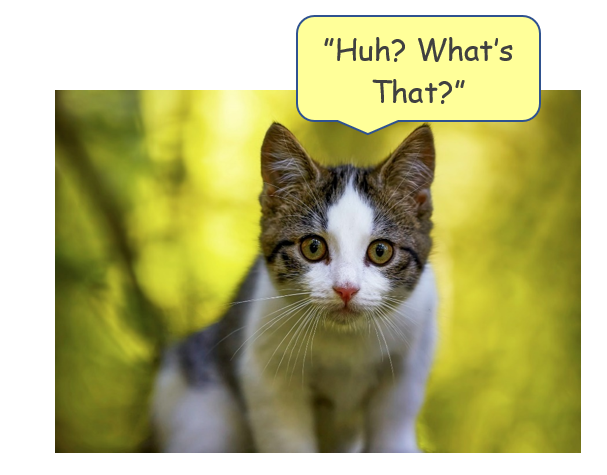 SUSPICION!
Stacy's gift of milk made the kitten suspicious.  What the kitten didn't understand, was that it was a gift of love. Stacy loved her even before the kitten loved her back.
DO WE WONDER THE SAME THING ABOUT THE LORD?
Why would He love me when I don't love Him? Don't I have to earn God's love? No. God's love is an unconditional gift.
GOD LOVED US, HIS CHILDREN, EVEN BEFORE WE HAD THE OPPORTUNITY TO LOVE HIM BACK.
This is love: not that we loved God,
but that he loved us and sent his Son as an atoning sacrifice for our sins. 1 John 4:10 NIV
Don't we love the children we create, often before they are even born and love us back?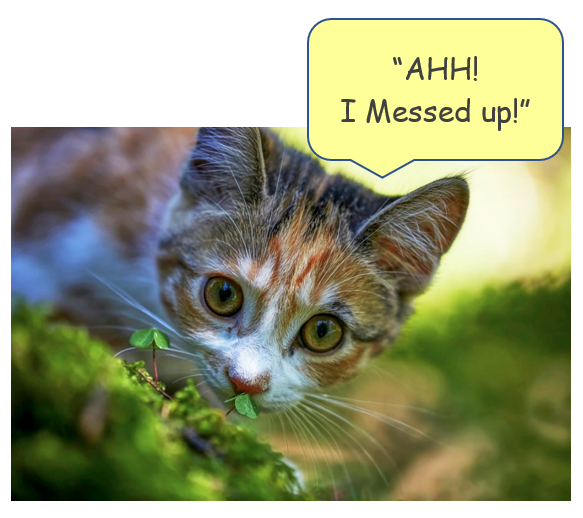 FEAR!
The kitten was so afraid when she messed up and spilled the milk that she hid.
ARE WE AFRAID THAT THE LORD IS COUNTING OUR MISTAKES TOO?
I don't know about you, but I have made a lot of mistakes! We all mess up! But God's love is merciful and forgiving. No matter who we are or what we have done, none of our mistakes will separate us from His love, Romans 8:38-39.
RATHER THAN COUNTING OUR MISTAKES,
GOD IS WAITING TO EXTEND HIS LOVING FORGIVENESS WHEN WE ASK.
If we confess our sins, He is faithful and just to forgive us our sins
 and to cleanse us from all unrighteousness.
1 John 1:9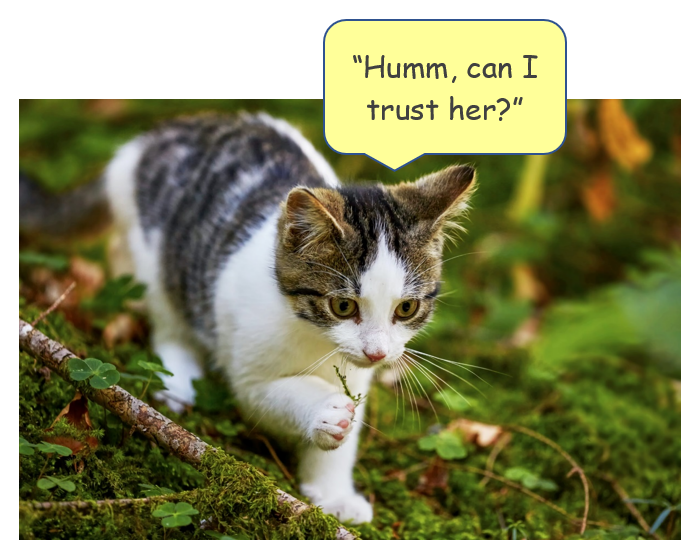 UNCERTAINTY!
Wondering if she could trust Stacy, the kitten approached. Then Stacy moved. The kitten's fear took over and she backed away.  But all Stacy longed to do was love and protect the kitten.
DO WE WONDER IF THE LORD IS TRUSTWORTHY?
Ok, I get the uncertainty. God was angry and wiped out some people in the Bible. But why did God do it?  He did it to protect those He loved.
God had called the Israelites to be a holy example to the nations, 1 Peter 2:9, and draw others to Him. Because of His love, He wanted to protect the Israelites from evil influences such as idols, rebellion, or rejection of God.  Don't we all want to protect those we love?
But the Lord is trustworthy—and He will strengthen and protect you from the evil one.
2 Thessalonians 3:3. TLV
Remember that in the Lord's love and compassion for us, He gave us Jesus who died and rose from the grave so that we could have eternal life, John 3:16. That's a love we can be certain of!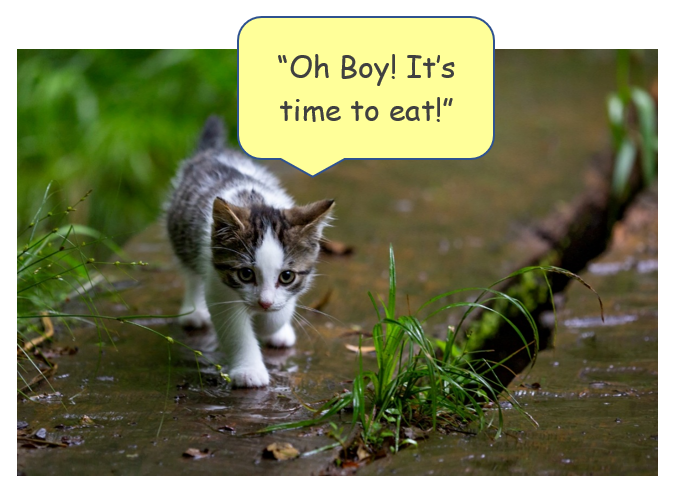 The Lord coaxes us to Him with love and kindness., Jeremiah 31:3, like Stacy coaxed the kitten. He calls to us in all different ways, even with a song.
Like Stacy, the Lord gives us space but stays nearby waiting for us to approach Him, (Deuteronomy 31:8).
When we do, He wants to show us His great love for us.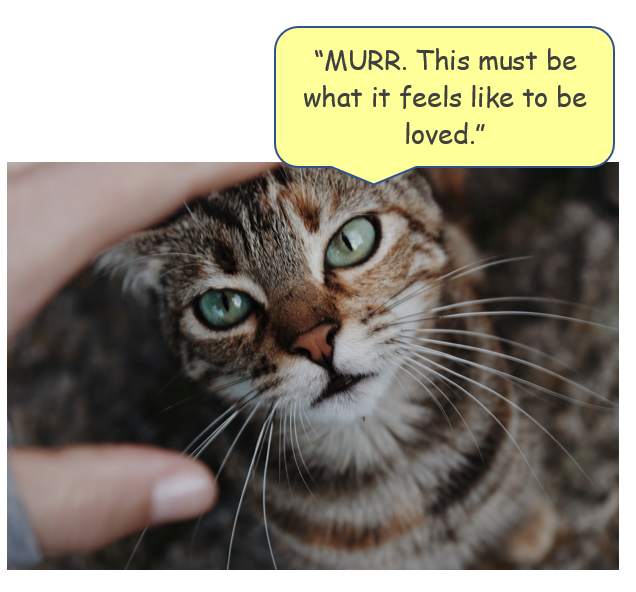 But God, who is rich in mercy, because of His great love with which He loved us, Ephesians 2:4
FAITH?
WHAT DOES OUR VIEW OF THE LORD HAVE TO DO WITH FAITH?
Like the kitten had to recognize Stacy's love before she trusted her, we too need to recognize that our Lord loves us before we can have faith to fully trust in Him. You see it's all about love.
REFLECTION
Do you believe that the Lord loves you?
PRAYER
Heavenly Father, as I write Ephesians 2:4 and say it aloud, help me to believe how deeply and unconditionally you love me. Help me to receive Your love for me. In Jesus name, Amen.
FAITH STARTS WITH LOVE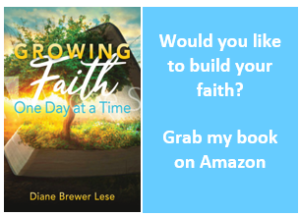 https://www.amazon.com/Growing-faith-one-day-time/dp
May your day be filled with love and laughter!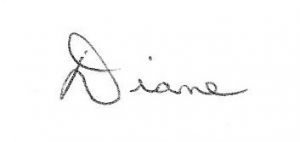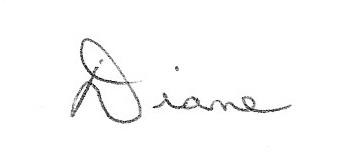 For information on making Jesus Christ your Savior, email me or visit, http://www.peacewithgod.net/
________________________________________________________________________________________ 
Photos kittens, Dorothea Oldani
Photo paw, Andrea Lese
Photo petting kitten, Rebe Pascua