Pushing a helmet into Ben's hands, the sergeant commanded, "Try this on." After placing it on, Ben shook his head sending the helmet bobbing up and down. "No, this one is too big."  "Ok, how about this size?" asked the sergeant slapping it down on Ben's head. "Oww! This one pinches. It's too small."
The sergeant held out another one, "Last one."  Ben took it gently placing it on his head. With a big smile and a thumbs up, Ben exclaimed, "This is just right!"  "Great!" uttered the sergeant "Now let's build in tools to make you combat ready."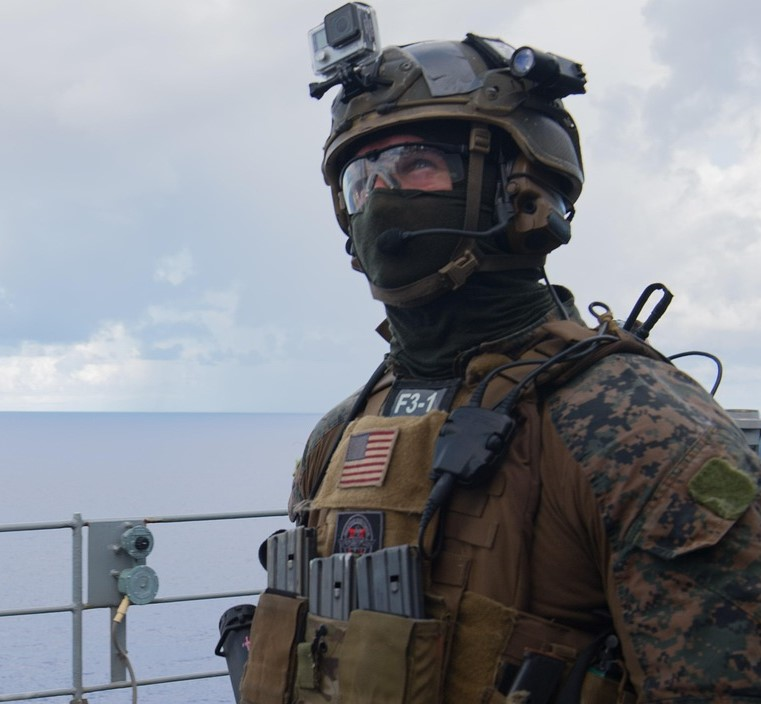 Like soldiers are equipped with armor to make them combat ready, our loving Lord equips us with armor too. We may not be fighting physical battles, but we are fighting spiritual ones.
Put on the whole armor of God,
that you may be able to stand against the wiles of the devil.
For we do not wrestle against flesh and blood, but against principalities,
against powers, against the rulers of the darkness of this age, against spiritual hosts of wickedness
 in the heavenly places,
Ephesians 6:11-12
WHAT IS OUR ARMOR?
A HELMET!
In order for Ben to be protected, he needed to choose a helmet that fit.  Without a helmet, or an ill-fitting one, Ben would be vulnerable to the enemy's weapons. The same is true for us. We too, need a helmet, not just any helmet, but one that fits.
TOO BIG?
It may slip reducing our field of vision or exposing an area to shrapnel.
TOO SMALL?
With inadequate coverage, we can still get wounded.
JUST RIGHT?
Perfect! Shrapnel can be deflected!
We may still feel the impact of the hit, but we won't be wounded.
NO HELMET?!
HELP! Without a helmet there's no protection!
Fears can mount, rejection can grow and hope can diminish.
Our helmet will be the first line of defense against the spiritual weapons of the enemy, like negativity. Media explodes with words and images sending them out like shrapnel cutting into our peace. These words and images create negative feelings about ourselves making us feel that we are not good enough. Then there is the news of war, destruction and escalating prices producing negative feelings about our future.
WHICH HELMET DO WE WEAR?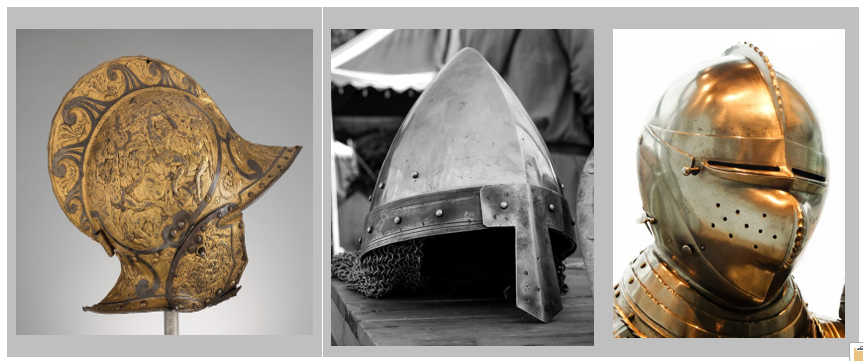 Not these! We wear the helmet of salvation from God's armor.
And take the helmet of salvation,
 and the sword of the Spirit, which is the word of God,
 Ephesians 6:17
The helmet of salvation is so powerful, it will save us from the enemy's weapons of sin and death and give us eternal life.  Our helmet of salvation is faith in Jesus.
That if you confess with your mouth the Lord Jesus
and believe in your heart that God has raised Him from the dead,
 you will be saved,
 Romans 10:9
TOOLS FOR COMBAT
But we need more than the helmet to be combat ready.  Like tools had to be built into Ben's helmet to make it combat ready, so does ours. The tools we build in are tools of faith.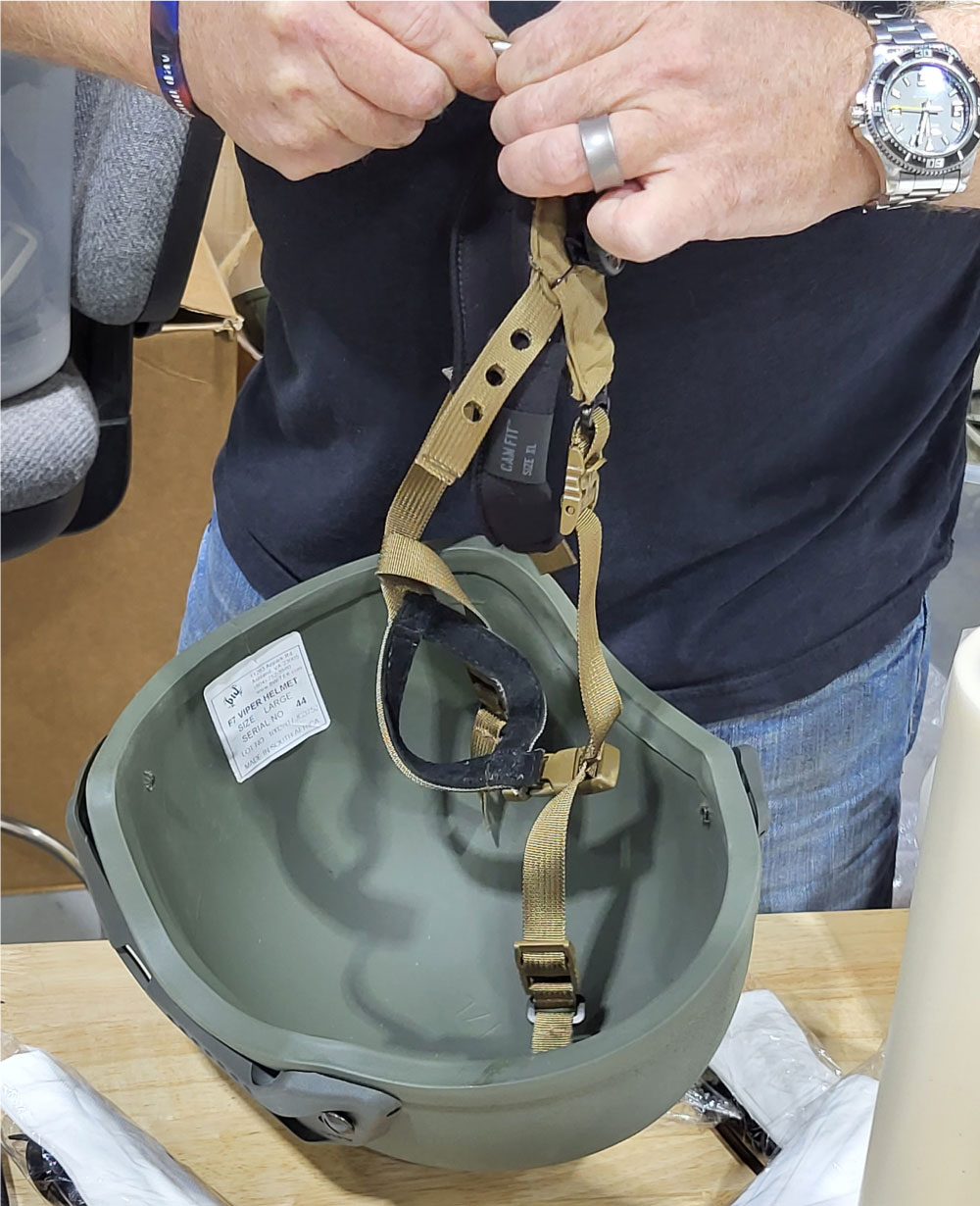 STRAP
What is needed to keep a helmet in place? A strap!
Even a helmet that fits could wobble without a strap.  What is the strap for our helmet? The Word of God. Studying God's Word so that we know and understand it, secures it in our minds like the strap secures the helmet to our heads.
My son, if you receive my words,
And treasure my commands within you,
So that you incline your ear to wisdom,
And apply your heart to understanding;
Discretion will preserve you;
Understanding will keep you,
To deliver you from the way of evil,
From the man who speaks perverse things,
Proverbs 2:1-2, 11-12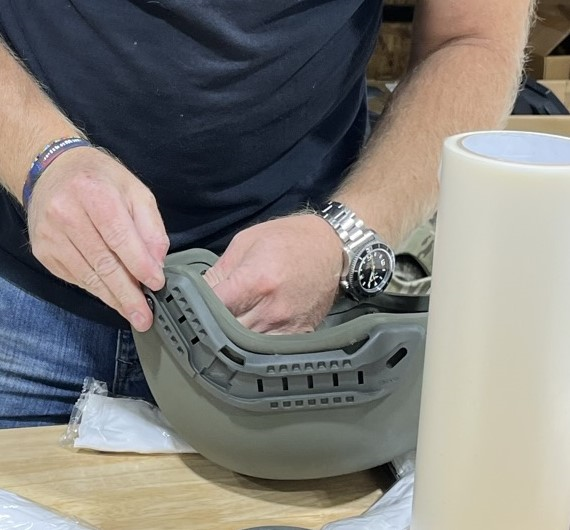 RAILS
Rails are used to attach tools to the helmet such as night vision, communication, & hearing protection.  Think of the rails as our faith. We are able to effectively use all the Lord's tools when we attach them by faith to our salvation in Jesus.
CAN YOU HEAR ME NOW?
Ben uses his communication tool to hear where his commander wants him to go and what he wants him to do.
In faith we use prayer, our communication tool, to hear the desires of our loving commander, Jesus,
Jeremiah 33:3.
SNAP! CRACKLE! POP!
With a hearing protection tool, combat noise is filtered out so Ben can concentrate and clearly hear his commander. When in faith, we have quiet time with Jesus, our hearing is protected as the world's noise is filtered out so we clearly hear His voice,
Psalm 46:10.
CAN YOU SEE IT?
A night vision tool allows Ben to identify the enemy and light his path no matter how dark the night.
In faith, we can turn on the light of His Word to identify our enemy and to light our way,
Psalm 119:105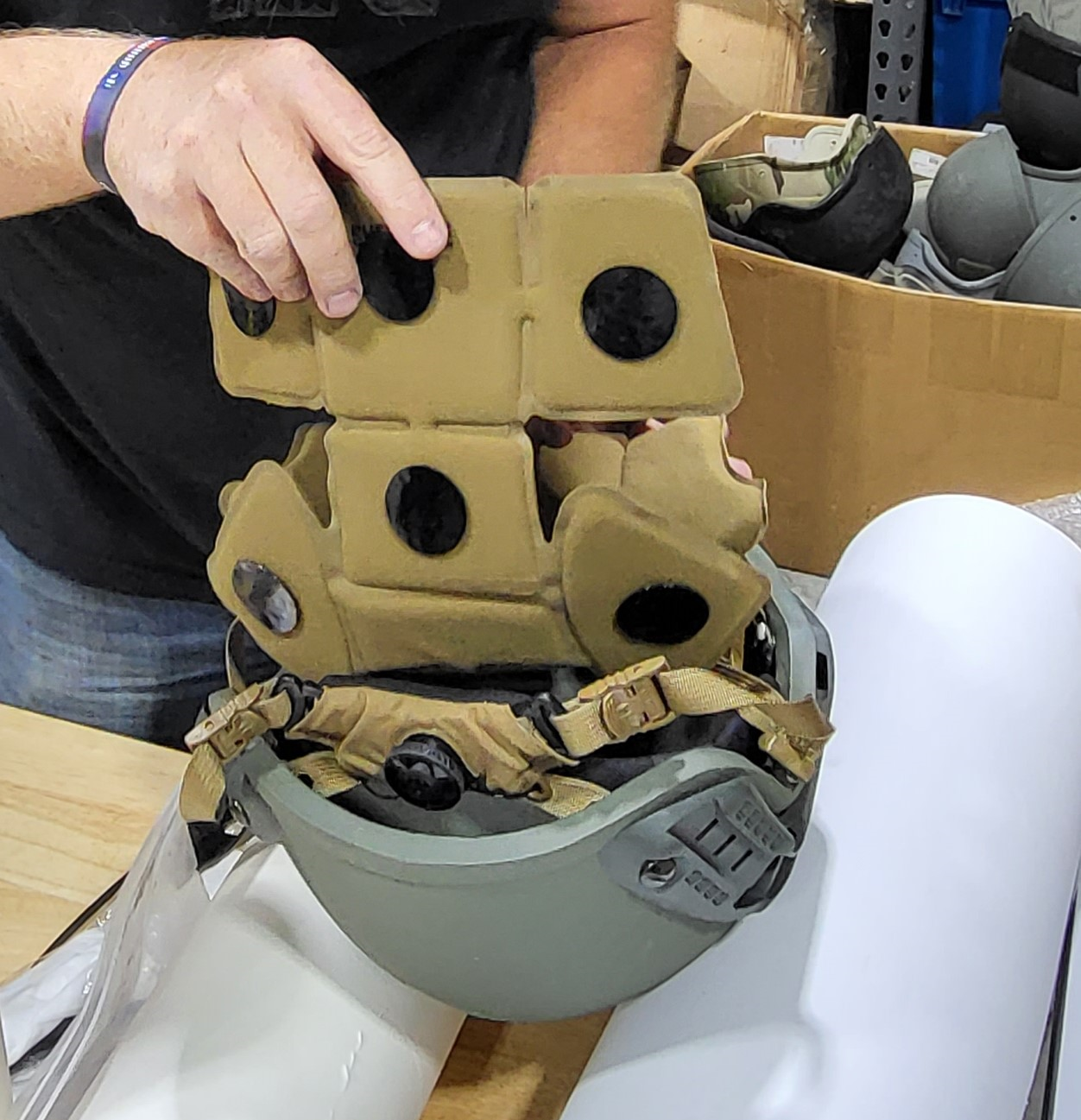 CUSHION
Why is a cushion important?
It hugs Ben's helmet securely to his head and acts like a buffer if he takes a hit from the enemy. Our cushion is the Holy Spirit who acts like a buffer if the enemy attacks by reminding us of God's love, His promises and that we are in Jesus' hands.
And I give them eternal life,
and they shall never perish;
neither shall anyone snatch them out of My hand,
John 10:28
THE LORD GIVES US ALL THE TOOLS WE NEED.
IN FAITH,
LET'S ATTACH AND USE THEM!
THEN PUT ON A SECURE HELMET
AND GO!
REFLECTION
Is your helmet combat ready?
PRAYER
Heavenly Father, as I write Romans 10:9 and say it aloud, strengthen my faith, secure my helmet and teach me how to use all the tools You have provided. In Jesus name. Amen.
IN FAITH USE GOD'S COMBAT TOOLS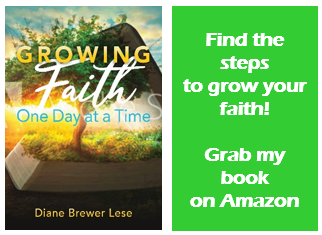 May your day be filled with love and laughter!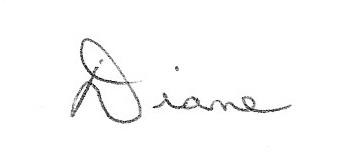 ________________________________________________________________________________________________
For information on making Jesus Christ your Savior, email me or visit, http://www.peacewithgod.net/
Soldier photo, military material
3 helmets photo, 4317940, jharnum, public domain