Can you match the fortress with the time it took to build it?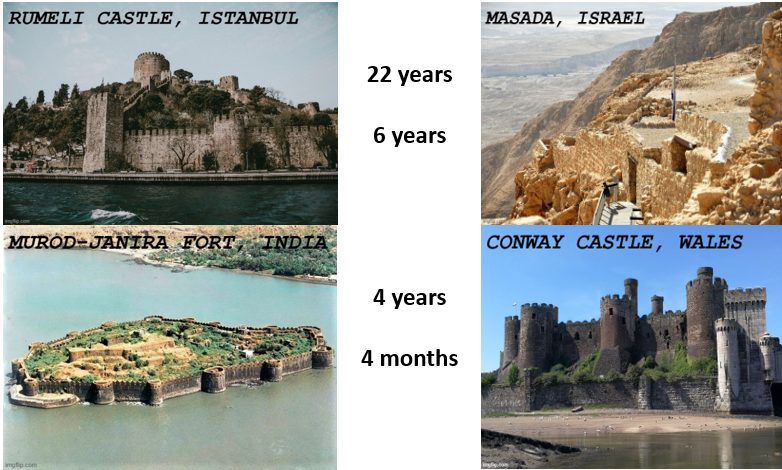 Rumeli castle, constructed in 1451, took a mere 4 months. What was the hurry? The Ottomans sought to capture Constantinople by controlling the waterway. And they did. 1
One of the most magnificent medieval fortresses in Europe is Conway Castle. Built in 1283 by King Edward 1, it took 4 years to complete. 2
How about fort Marud-Janira? Spread across 22 acres, it took 22 years to finish. 3
King Herod's palace fortress, Masada, was constructed in 6 years. Sitting on a cliff in the Judean desert it has spectacular views of the Dead Sea. 4
For centuries, people have erected fortresses like these to protect themselves.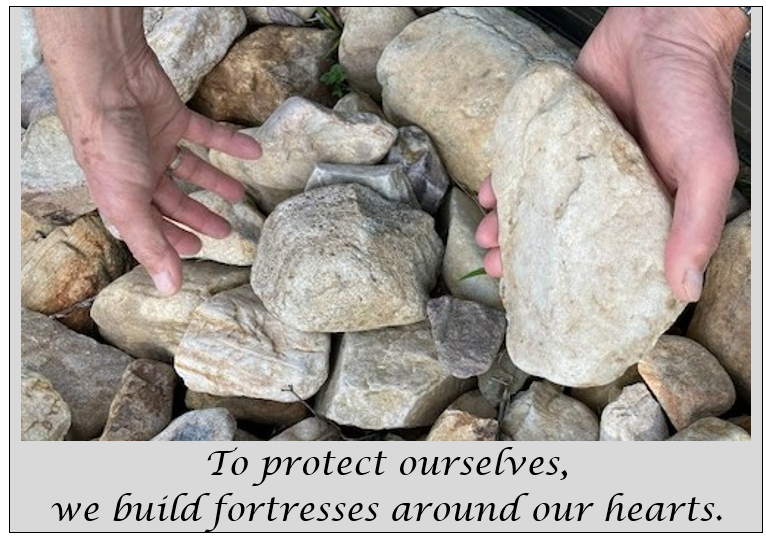 Fortresses built of stones we pick up as we journey through life.
WHERE DO THESE STONES COME FROM?
FROM UNMET EXPECTATIONS.
When our expectations are not met, we can pick up stones of confusion, hurt, fear, despair and anger building a fortress around our hearts.  These stones can come from anywhere; our jobs, relationships, lack of results, etc.
HOW ABOUT FROM OUR PRAYERS?
Don't we expect God to answer "yes" to our prayers? Because He loves us, He wants to say "yes" to the desires of our hearts.
Delight yourself also in the Lord,
 And He shall give you the desires of your heart.
 Commit your way to the Lord, Trust also in Him,
 And He shall bring it to pass,
 Psalm 37:4-5.
HOWEVER, SOMETIMES WE HEAR
"NO" OR "WAIT."
WHY?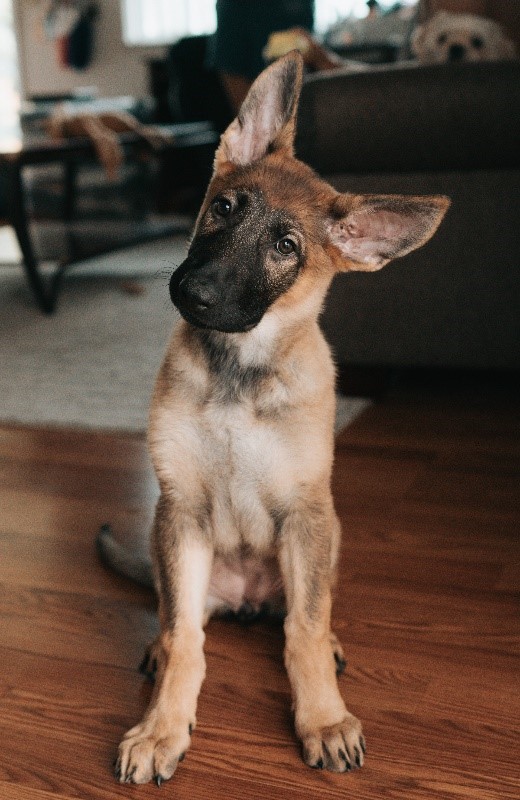 Understanding why, can help us avoid or remove the fortress of stones.
WHY "WAIT"?
BECAUSE THERE'S A GREATER PURPOSE!
Or
IT'S NOT TIME! 
Look at Lazarus. When he became sick, his sister sent for Jesus. She expected Jesus to heal Lazarus. But Jesus didn't.
Waiting for Jesus, some people's faith would have strengthened. Others would have picked up stones. They would not have known that Jesus waited because it wasn't time for His greater purpose.
When Lazarus died, each person made a choice. Would the fortress around their hearts grow with stones of anger, doubt and hurt?  Or like Martha, would they choose faith?
"Lord," Martha said to Jesus,
 "if you had been here, my brother would not have died.  
But I know that even now God will give you whatever you ask,"
 John 11:21-22 NIV
Although it pained Jesus for His friends to grieve, He waited for Lazarus to die. Then Jesus raised Lazarus from the dead fulfilling a greater purpose.
So, they took away the stone.
Then Jesus looked up and said, "Father, I thank you that you have heard me. 
 I knew that you always hear me, but I said this for the benefit of the people standing here, that they may believe that you sent me."
 When he had said this, Jesus called in a loud voice, "Lazarus, come out!" 
 The dead man came out,
his hands and feet wrapped with strips of linen, and a cloth around his face,
John 11:41-44a NIV
When the stone to Lazarus grave was rolled away,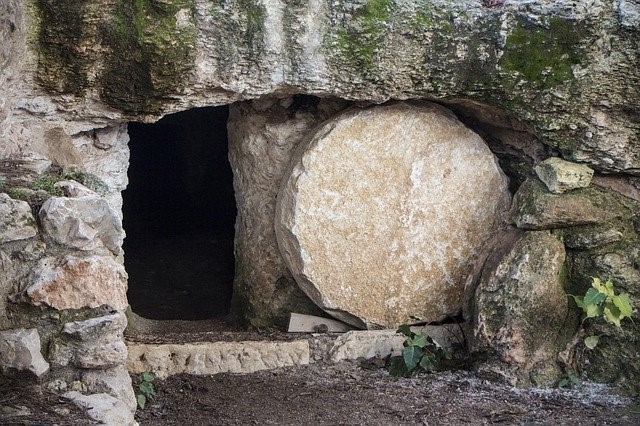 the stones in the hearts of those grieving were rolled away too.
Like Jesus brought new life to Lazarus, He brought new life to their stony hearts.
I will give you a new heart and put a new spirit in you;
 I will remove from you your heart of stone 
and give you a heart of flesh,
 Ezekiel 36:26
If we have picked up stones, Jesus can bring new life to our hearts as well.
WHY "NO"?
TO PROTECT US!
Or
MOTIVES!
Can't you imagine all the stones piling up when the Lord's answer is "no"?
DON'T TAKE THAT JOB!
DON'T MOVE!
DON'T MARRY THEM!
Aww! Stones of disappointment, confusion and anger pile up with unmet expectations!
Did the Lord say "no" to protect us or were our motives wrong? What if He had said "yes"? If our hearts were not right, or it wasn't His plan, would saying "yes" help us or send us down the wrong path?
You ask and do not receive, because you ask amiss,
that you may spend it on your pleasure,
 James 4:3
As we see His plan, we can look back and go, "Whew! Thank you, Lord! I dodged a bullet!" Then we understand how in His love for us, He protected us.  We don't know the future, but the Lord does.
When we hear "no" or "wait"5, rather than gather stones,
we can have faith that our Lord is doing what is best for us because He loves us.
WE DON'T HAVE TO BUILD A FORTRESS TO PROTECT OURSELVES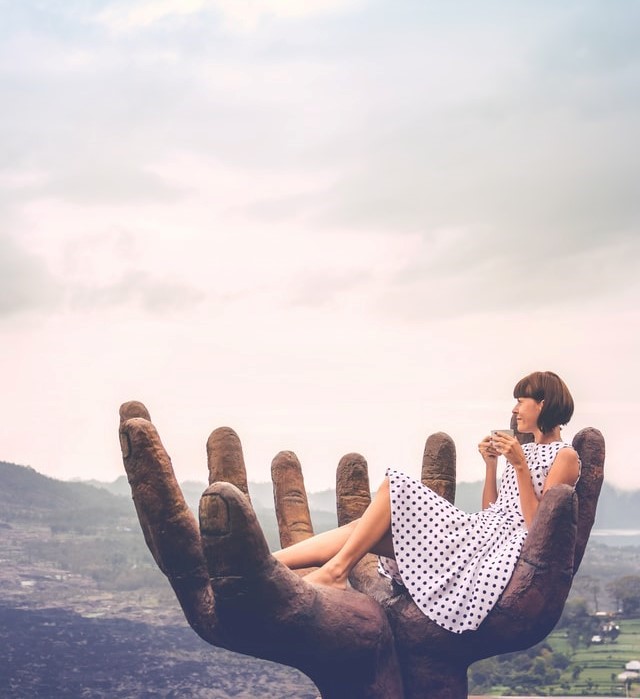 WHEN WE LISTEN TO THE LORD,
WE CAN REST IN HIS HANDS.
HE WILL PROTECT US
AND BE OUR FORTRESS.
For You are my rock and my fortress;
Therefore, for Your name's sake, lead me and guide me,
 Psalm 31:3
REFLECTION
Have you picked up any stones that you can trade for faith?
PRAYER
Heavenly Father, as I write Psalm 31:3 and say it aloud, reveal any stones around my heart. Strengthen my faith to tear down my fortress and allow You to be the fortress in my life.  In Jesus name. Amen.
FAITH IN GOD'S ANSWERS REMOVES STONES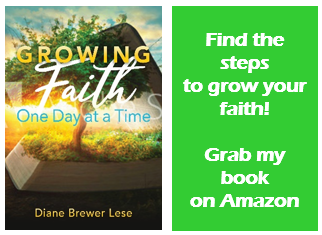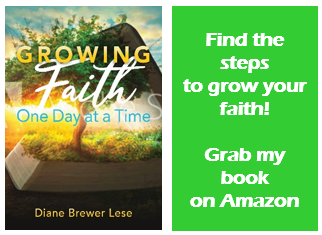 May your day be filled with love and laughter!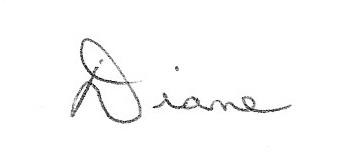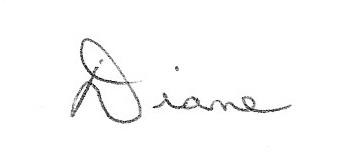 ________________________________________________________________________________________________
For information on making Jesus Christ your Savior, email me or visit, http://www.peacewithgod.net/
1 historyhit.com
2 cadw.gov.wales
3 tfipost.com
4 wikipedia.com
5 How to wait; Faith and Waiting – WALK BY FAITH – DianeLese