Test your knowledge! Are these statements true or false?
Swallowed gum takes 7 years to digest.
Bulls attack anything red.
Foods containing mayonnaise spoil faster.
Cracking your knuckles gives you arthritis.
Let's see how you did!
How many pieces of gum did you swallow as a kid? I know I swallowed a few to avoid being balled out by my dance teacher. Never fear! Most gum ingredients digest immediately with any indigestible ingredients finding their way out in a couple of days. 1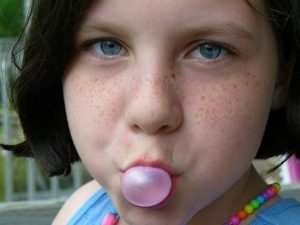 As the matador swings his red cape, the bull charges! Does the color red attract the bull? No. Bulls are colorblind. They charge not at the red color, but at the movement of the cape. 1
A spoiler alert for mayonnaise? Unnecessary! Due to its' acidic properties and low pH, bacteria are not attracted to it. 1
Relax knuckle crackers. There is no medical evidence to show that cracking knuckles causes arthritis. 1 Maybe the old wives' tale was started by someone who didn't like to hear, "CRACK"!
Were you surprised that all of these sayings were false?
When we hear something often enough, we tend to believe it is true.
As you can see from our quiz, it could actually be false.
How about God? Do we tend to have beliefs about Him that are not true?
Yes, and Jonah did too.
Let's look at his story in the Bible, Jonah chapters 1-4.
Jonah, an Israeli prophet, was instructed by God to go to Nineveh to preach repentance and mercy to the wicked Assyrians. This idea didn't sit too well with Jonah. Why would God care about Israel's enemies? Preach to his enemies? No way! Jonah figures if he goes to Tarshish, God will forget about him. Does He? I don't think so!
BELIEF #1
God will forget about me.
TRUTH #1
God will never forget us.
Can a woman forget her nursing child, and not have compassion on the son of her womb? Surely, they may forget, Yet I will not forget you. Isaiah 49:15
Back to our story.
Jonah hops on a ship and a terrible storm occurs. It rocks the ship so hard that the sailors feared for their lives. So, what did they do? Determining that Jonah's disobedience caused the storm, the sailors threw him overboard!
I don't know about you, but plunging into the ocean without a life raft? Scary!! What about drowning or sharks?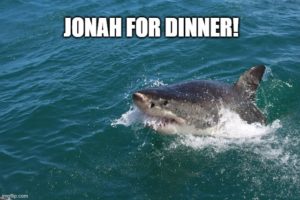 After Jonah had messed up, God could have let him drown or fed him to the sharks, but He didn't!
Instead, He sent a great fish to swallow Jonah.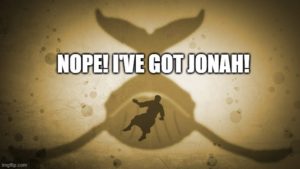 Perhaps the great fish was a sperm whale. They are the only fish who can fit a human in their mouth. However, they do not eat humans. Whew! Good news for Jonah!
Being in the belly of a whale may not have been pleasant, but it got Jonah's attention. It would be like sending our kids to their rooms to think about their misbehavior. Since Jonah was in the middle of the ocean, I guess the whale's belly was the closest thing to a room God could get.
BELIEF #2
If we mess up, God will write us off. 
TRUTH #2
God loves us so much that he will pursue us and bring us to a place of repentance.
What man of you, having a hundred sheep, if he loses one of them, does not leave the ninety-nine in the wilderness, and go after the one which is lost until he finds it?  7 I say to you that likewise there will be more joy in heaven over one sinner who repents than over ninety-nine just persons who need no repentance. Luke 15:4,7
For 3 days and nights Jonah was inside that whale. During that time, God took care of him. Oxygen?  I assume God miraculously provided that. Food and water? There was probably some floating around in the whales' belly. God put Jonah in a safe place where he could think. Finally, when Jonah's thoughts turned to the Lord, the whale vomited Jonah on land.
Reluctantly, Jonah goes to Nineveh to preach. The Ninevites repent with fasting and sackcloth. This angers Jonah. He wants his enemies destroyed, not saved!  But God does not destroy them.
Then God saw their works, that they turned from their evil way; and God relented from the disaster that He had said He would bring upon them, and He did not do it. Jonah 3:10
You see, God loved Jonah, but He also loved the Ninevites and showed them mercy.
BELIEF #3
God's mercy and love is not for everyone.
TRUTH #3
No matter who we are or what we have done, God is willing to forgive. He wants everyone to come to Him.
The Lord is not slack concerning His promise, as some count slackness, but is longsuffering toward us, not willing that any should perish but that all should come to repentance. 2 Peter 3:9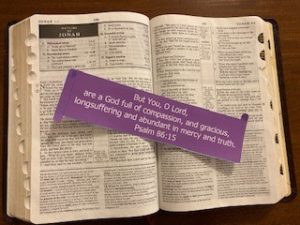 Even the prophet Jonah messed up. Even Jonah struggled with anger and unforgiveness. Even Jonah had false beliefs. Like Jonah, we all have false beliefs, which prevent us from having faith for God's words of truth.
God loves and offers mercy to us all. As we read in 2 Peter 3:9, that is God's truth. No matter who we are or what we have done, God loves us. His words are truth, (John 17:17). We can count on it.
REFLECTION
Do you have any of the same beliefs as Jonah? Can you have faith to believe God's truth?
PRAYER
Heavenly Father, as I write 2 Peter 3:9 and say it aloud, open my heart to see the love and mercy you have for me and others. In faith, help me to believe Your words are true.  In Jesus name, Amen.
IN FAITH WE TRUST GOD'S WORDS ARE TRUE
If you enjoyed or benefited from my blog, please subscribe below for free and like my Facebook page.
Thanks so much!
May your day be filled with love and laughter!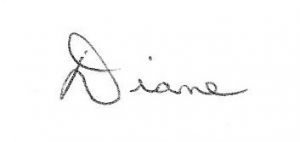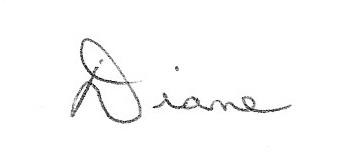 For information on making Jesus Christ your Savior, email me or visit, http://www.peacewithgod.net/
________________________________________________________________________________________________
1 Treehugger.com
Whale facts, Whalefacts.org
Photo bubble gum by Live, Love, Laugh, pixabay
Photo shark, Alex Steyn, unsplash
Photo whale, Jeff Jacobs, pixabay