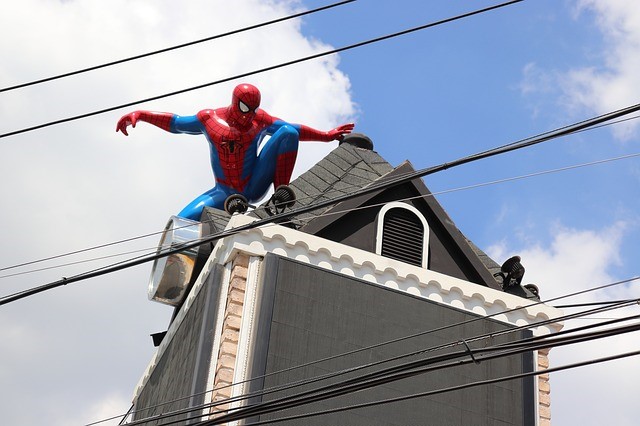 Sensing her need for help, he slips on his Spiderman suit.  Stealthily he slips into the room behind the chair.  Closely watching, he looks for an opportunity to rescue the victim.  As the villain turns her back, the superhero leaps into action.  BAM!  With super strength he pushes the chair out of the way. Using super speed, Spiderman grabs the victim and runs out of the room.  "Hey!" shouts his little sister, "Bring me back my doll!"
As you can see, this was not a spoiler alert for the latest Spiderman movie. When the movie was released and their merchandise flooded the market, most children wanted superpowers like Spiderman. Didn't they?
PERHAPS THERE IS A LITTLE SPIDERMAN IN ALL OF US.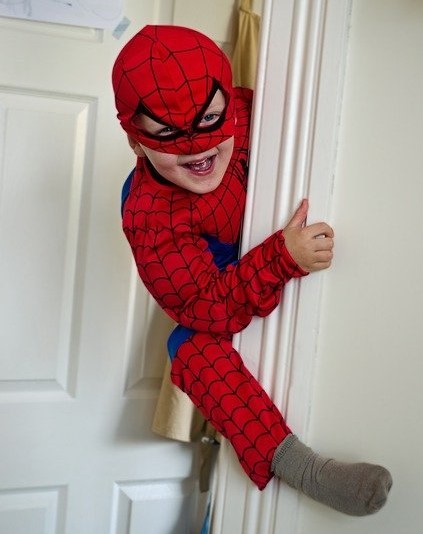 Think not? Well, let's see.
When we believe in and give our heart to the Lord,
we are transformed into a new creation.
Therefore, if anyone is in Christ, he is a new creation;
 old things have passed away; behold, all things have become new,
 2 Corinthians 5:17
Wasn't Peter Parker transformed into a new creation as Spiderman? He was no longer a typical high school kid. Now he was filled with superpowers. He had a Spidey-sense to recognize danger and power to face evil.
As God transforms us, we are no longer our old selves. Now we are filled with the power of His Holy Spirit. We no longer have to walk through life facing unconquerable obstacles and remaining powerless when evil appears.
SPIDEY-SENSES?
 WE DON'T NEED THEM!
Peter Parker needed Spidey-senses to guide him and the faith to follow them. We don't need Spidey-senses but we do need faith. Faith that we hear from God and faith to follow His leading.
When we listen to the Lord, He will give us the discernment to guide us through the obstacles of everyday life.
Your ears shall hear a word behind you, saying, "This is the way, walk in it,"
 Whenever you turn to the right hand or whenever you turn to the left. Isaiah 30:21
SUPERPOWERS?
NOT NECESSARY!
Spiderman's superpowers to cling to any surface or perform mind blowing acrobatic feats against evil, aren't in our arsenal of tricks. But we don't need them.
THROUGH GOD, WE CAN CONQUER EVIL.
Yet in all these things we are more than conquerors through Him who loved us,
Romans 8:37
Unlike Spiderman, we don't face evil superhuman or alien villains, but we do face the effects of isolation, job loss or sickness. As we face these obstacles, fear, depression, rejection and a host of other evil effects try to worm their way into our hearts.
WHEN WE FACE EVIL,
GOD IN HIS AMAZING LOVE FOR US ARMED US WITH A POWERFUL TOOL TO KNOCK IT OUT;
HIS WORD.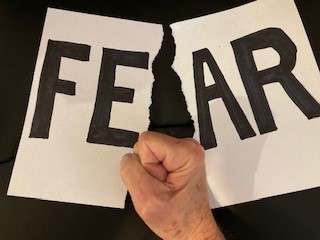 Here comes evil fear! Thak! 2 Timothy 1:7
Money problems, take this! Zok!  Philippians 4:19
Sickness & depression, move out of here!  Whamo!  Psalm 103:3
It took faith for Peter Parker to face evil and use his Spiderman superpowers.  So too, we have to have faith that through God and armed with His Word we can have victory over evil.
BECAUSE OUR GOD CAN DO ANYTHING,
THROUGH HIM WE CAN CONQUER THE EVIL THAT COMES OUR WAY.
God has superpowers that go beyond our imagination. We see the evidence throughout the scriptures as God powerfully overcomes obstacles rescuing people over and over again.  Here are a few examples;
Jesus heals the sick, Luke 4:38-39
Jesus raises the dead, John 11:43-44 m
God rescues Shadrach, Meshach, and Abed-Nego from the fiery furnace, Daniel 3:22-28
God rescues Daniel from the hungry lions, Daniel 6:16-22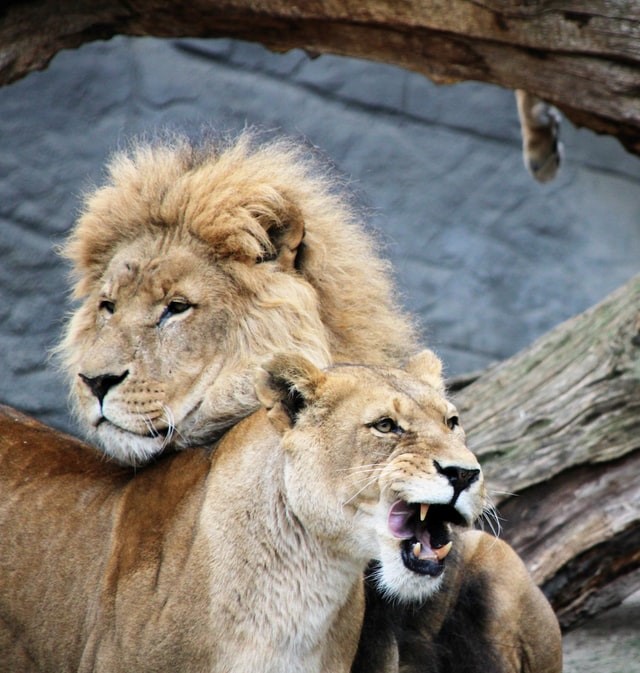 Our God's powers extend beyond the combined powers of all the superheroes we can imagine.  God is so powerful that there is nothing He cannot do!
"Ah, Lord God! Behold, you have made the heavens and the earth
 by Your great power and outstretched arm.
There is nothing too hard for You."
Jeremiah 32:17
So, next time we, or someone we love needs rescuing, remember through God we can conquer evil!
REFLECTION
Do you ever feel like a victim of isolation, sickness or job loss? Do you feel fear, depression or rejection has crept in? In faith, can you rely on God and use His Word to knock it out?
PRAYER
Heavenly Father, as I write Romans 8:37 and say it aloud, strengthen my faith. As I face evil, remind me of Your power to conquer it. Arm me with Your Word and fill me with Your power. In Jesus name, Amen.
BY FAITH, THROUGH GOD & HIS WORD WE CAN CONQUER EVIL
I would love to connect with you on my website or Facebook page!
Please subscribe for free to receive my blogs directly to your email.
Thanks so much!
May your day be filled with love and laughter!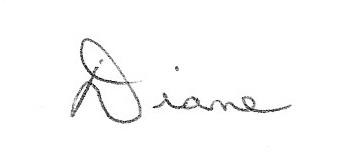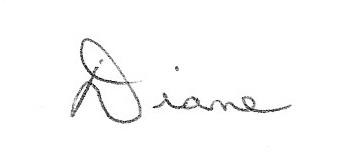 For information on making Jesus Christ your Savior, email me or visit, http://www.peacewithgod.net/
________________________________________________________________________________________________
Photo Spiderman, user9077, pixabay
Photo child, publicdomain, pixabay
Photo lions, Mika Brandt, unsplash