Test your knowledge of diamond trivia! 1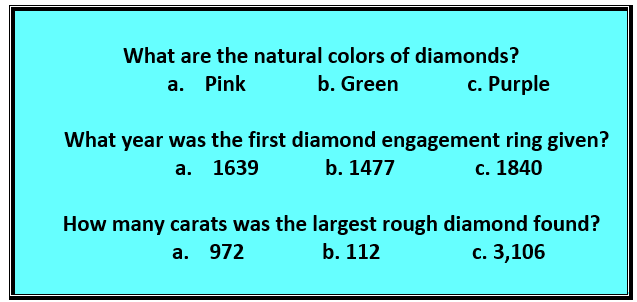 Did you guess all the colors above are natural diamonds? You are correct! There are also champagne, black, chocolate, yellow, gray, and even purples. However, the rarest colors are blue, green, orange and red.
The Cullinan diamond is the largest rough diamond in the world weighing in at 3,106 carets! Discovered in 1905 it was cut into 9 major stones and 96 minor ones. However, none of them were used for the first engagement ring. Archduke Maximilian of Austria started that tradition in 1477. Mary of Burgundy was the lucky lady.
WE ARE LIKE DIAMONDS
Rough diamonds are formed when carbon is exposed to pressure and heat. Our transformation often comes from the pressure and heat of trials as the Lord shapes us to sparkle and shine with His love.
My brethren, count it all joy when you fall into various trials, 
knowing that the testing of your faith produces patience. 
But let patience have its perfect work, that you may be perfect and complete, lacking nothing,
 James 1:2-4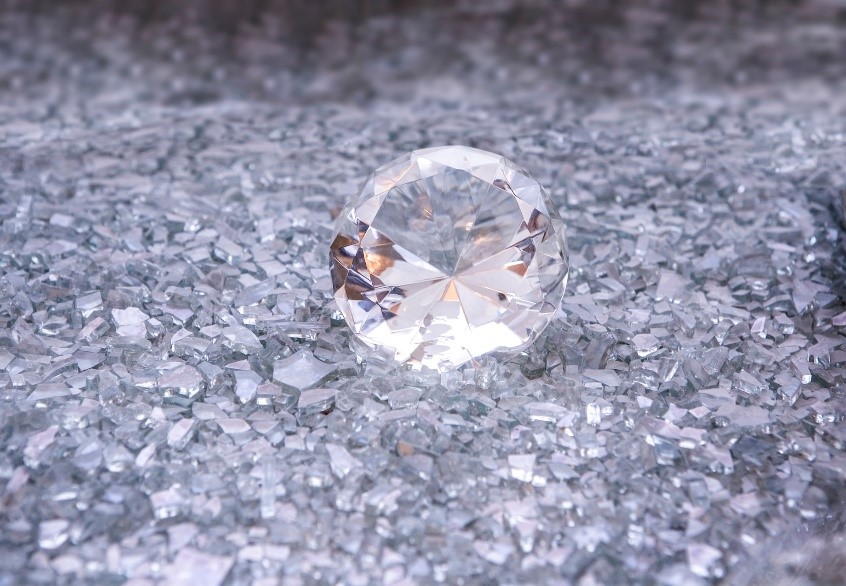 ROUGH DIAMONDS
Have you ever seen a rough diamond?
It looks like water worn quartz covered in film with cracks or hollow places.  Doesn't sound like diamonds we see, does it?
In the hands of a master diamond cutter, a rough diamond is transformed as he cleans, shapes and polishes the stone to reflect the light.
Do you ever feel like a diamond in the rough?
Obstacles in our lives may leave us feeling worn with hollow places in our hearts. Like a film, the residue of negative words, unresolved issues and heart break coats our hearts and minds.
When by faith we place our lives into the hands of our master, the Lord Jesus Christ, we like the diamond will be transformed.
And you He made alive, who were dead in trespasses and sins,
 Ephesians 2:1
CLEANING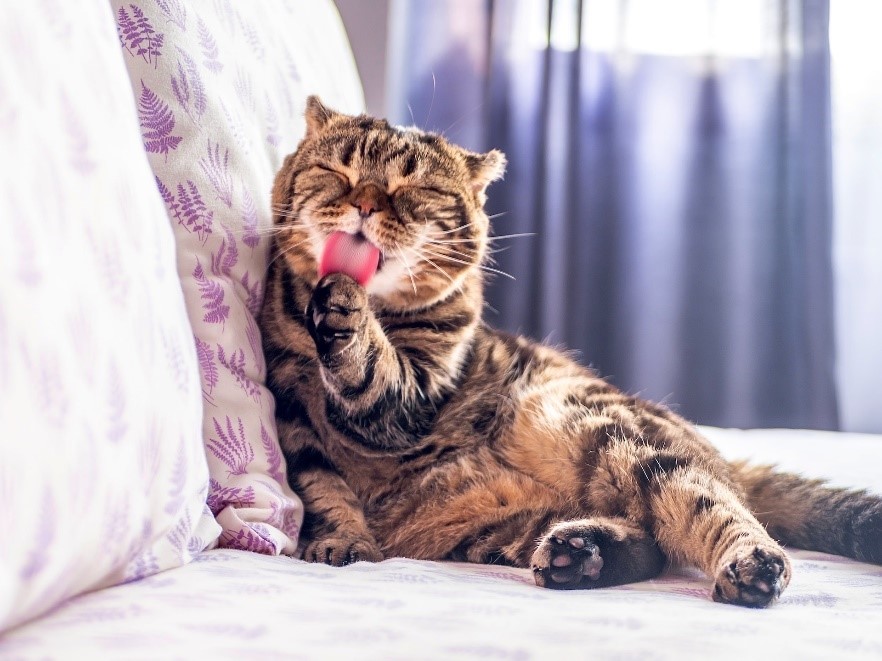 ALL NATURAL!
Substances that reside in the cracks and hollows of rough diamonds impact their value. They are cleansed with the pressure of gas and washed with water.
Sometimes anxieties reside in the hollows and cracks of our hearts impacting our faith. By the pressure of trials and washing of the water of God's word, they can be cleansed too.
That He might sanctify and cleanse her
with the washing of water by the word,
Ephesians 5:26
SHAPING
With a discerning eye, the master diamond cutter, sees past the rough diamond and envisions the beautiful gem it will become.
To create a round shape, two hard diamonds must grind against each other as they turn in opposite directions.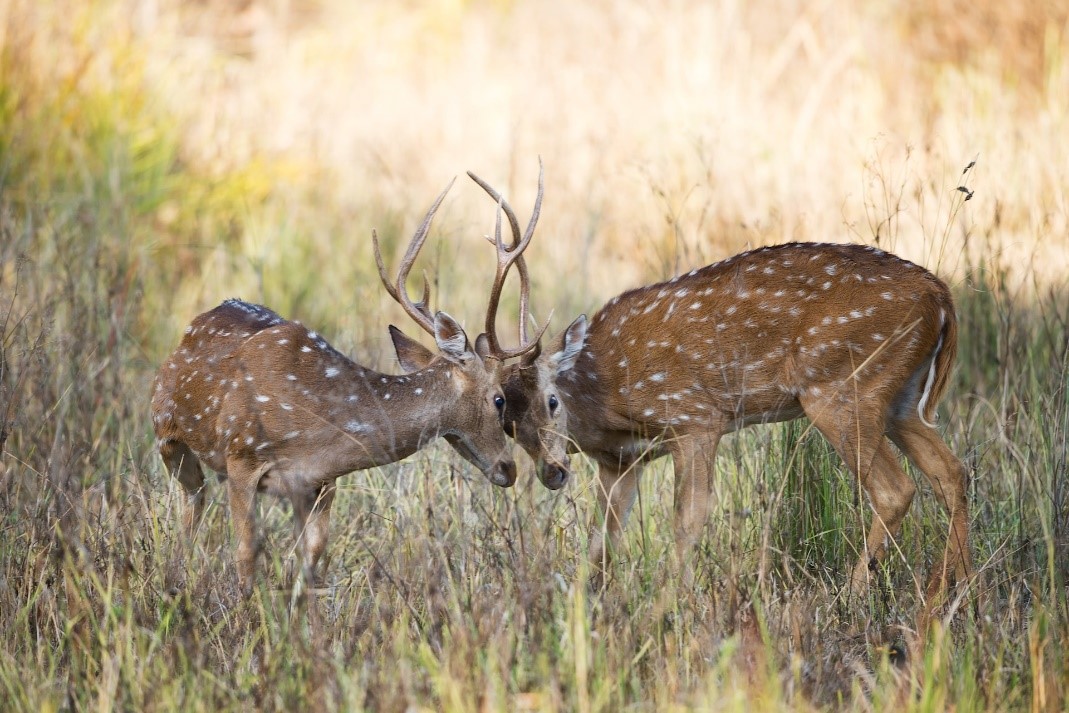 The Lord sees through our rough façade, cracks and hollow places of our hearts, with a vision of the beautiful person we can become. Others may not yet spot the beauty in us, but God does.
We take shape as
 He chips away our sharp edges
and cuts out harmful things from our lives.
Like two hard diamonds grind against each other for shaping, two hard headed people butting heads, can help shape us too. Our differences may transform us as we learn to listen, compromise if appropriate and love in spite of the results.
That the trial of your faith,
being much more precious than of gold that perisheth,
 though it be tried with fire,
 might be found unto praise and honor and glory at the appearing of Jesus Christ,
 1 Peter 1:7 KJV
POLISHING
As part of the polishing process, the diamonds remaining facets are added enabling it to sparkle as it reflects light.
By faith, as we allow our loving Lord to polish us, each facet of our lives can reflect more of the light of the Lord.
Let your light so shine before men,
that they may see your good works and glorify your Father in heaven,
 Matthew 5:16
KEEP IT SPARKLING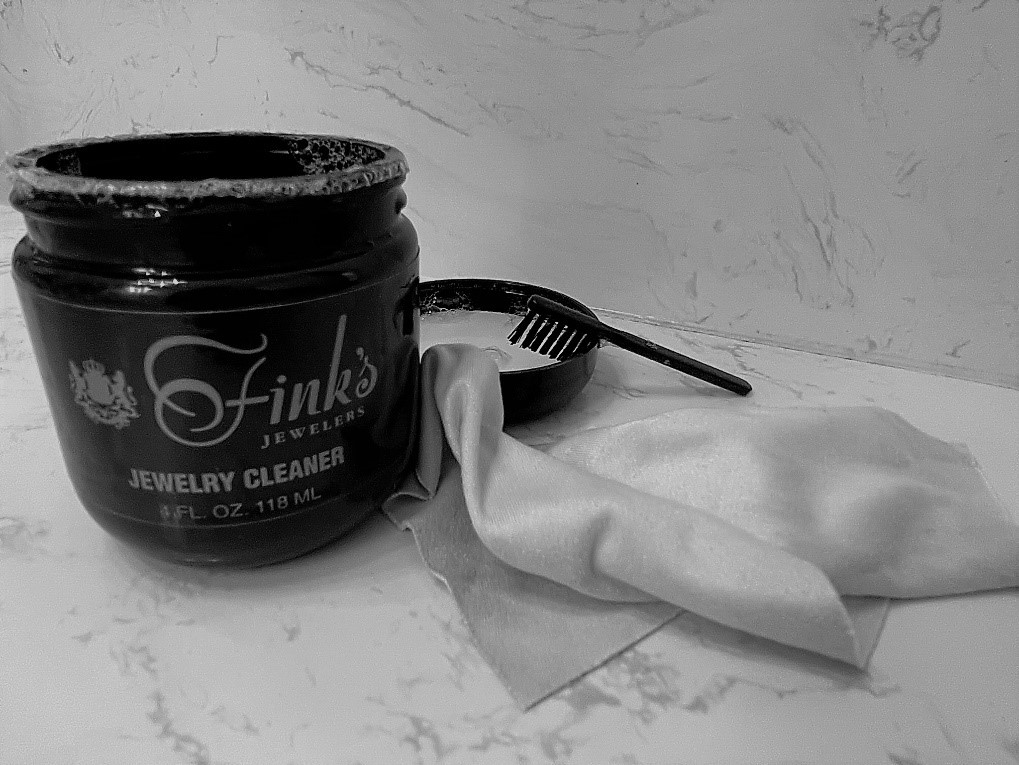 How do we keep it sparkling? By cleaning away the residue that builds up from things it is exposed to.
What about our hearts and minds?
Don't worry. When residue builds up from things we are exposed to, we can sparkle again with the Lord's light. Our loving Lord will help us clean the residue away.
Create in me a clean heart, O God,
And renew a steadfast spirit within me,
Psalm 51:10
IT'S ABOUT LOVE
Because the Lord loves us, He will continually clean, shape and polish us.
Like a diamond might be returned for a little touching up, we can repeat trials for a little touching up. In His love for us, He wants us to learn from our trials so that we can sparkle and shine with His love.
WHEN TRIALS COME
THE LORD IS MAKING A BRILLIANT DIAMOND
OUT OF US!
For more encouragement, check out the song "Diamonds" by Hawk Nelson.
REFLECTION
Are you experiencing a trial? Can you allow the Lord to transform you into a brilliant diamond?
PRAYER
Heavenly Father, as I write Psalm 51:10 and say it aloud, I give myself to you to be cleaned, shaped and polished. Strengthen my faith through the process so that I allow You to transform me into the diamond You envision me to be. In Jesus name. Amen.
BY FAITH THE LORD WILL TRANSFORM YOU INTO
A BRILLIANT DIAMOND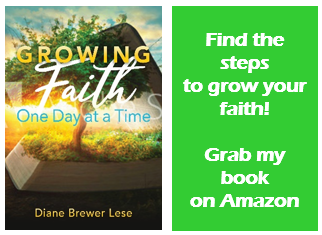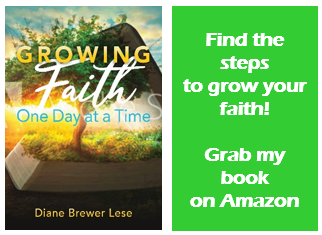 May your day be filled with love and laughter!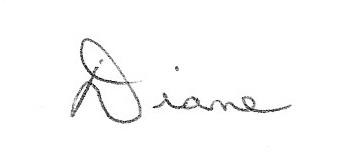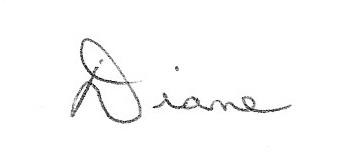 ________________________________________________________________________________________________
For information on making Jesus Christ your Savior, email me or visit, http://www.peacewithgod.net/
1 koserjewelers.com
Diamond processes; ehudlaniado.com, thediamondauthority.org, beyond4cs.com