Mud! Murky, messy, puddles of soft, squishy, dirt! Dogs seem to be attracted to it, (and children too)!
When a dog spies mud, he thinks, "Mud! Oh, boy!" Then off he bounds to roll in the muck! His good time results in clumps of mud matted fur! And pawprints? His every step leaves a path!
GUESS WHAT TIME IT IS? YES, IT IS BATH TIME!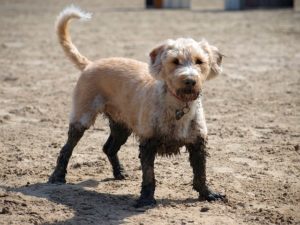 Have you ever given a dog a bath?
Some dogs tolerate it. Standing still they look at you with sad eyes while you soap them down and rinse them off. Then there are those that are less compliant.  The soap comes out and they anxiously run and hide. Refusing to come out of hiding, you have to pick them up, (if you can reach them), and take them to be bathed. The whole time you are washing, they are trying to wiggle out of your grip!
As soon as you relax your grip, they jump out of the tub! Hopefully you are finished by then, because they don't wait to be dried off.  Instead, they wiggle their back end shaking off water and spraying everything within 3 feet! Then happily they trot off as if nothing has happened.
Don't take this the wrong way, but have you ever noticed our similarity to dogs?
When we are faced with situations that make us anxious, or ones we just don't like, what do we do? Most of us will probably try to wiggle out of it, run from it or try to hide. Just like our friend the dog. If we are unsuccessful, we try to tolerate it with sad eyes and uncooperative attitudes. Like a dog taking a bath, we can't wait till it is over.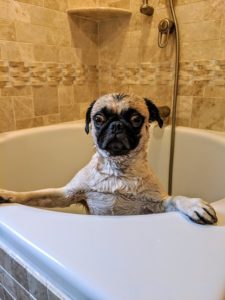 But anxiety causing situations can actually work to our good.
That sounds like a contradiction, doesn't it?
My brethren, count it all joy when you fall into various trials, knowing that the testing of your faith produces patience. James 1:2-3
Let's think about the dog. Even though the dog doesn't like the bath, there are some benefits.  How about the nice, clean smell they get? Their smell may not matter to them but, it sure matters to the people around them.
As the water washes over the dog, more of the mud is revealed and washed down the drain leaving their fur soft and clean. A bath may be an anxious trial to a dog, but it works for his benefit.
Sometimes we need a bath too.
As we walk through life, we may be attracted to some mud puddles along the way. Other times, our anxious reactions to situations may stick us in the middle of the mud puddle. Before we realize it, we have mud clinging to us.  Not literal mud, but anxiety which can morph into anger or guilt, among other things. It hangs on us like clumps of mud and mucks up our thinking like the mud mucks up a dog's fur.  When we don't wash away the mud, we may not notice but those around us might.
So, what do we do when we do notice the clumps of mud? Wash it off!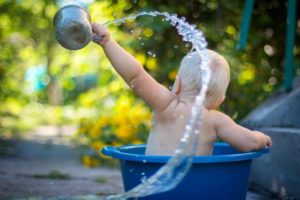 All it takes is a little water!
WHAT WATER DO WE USE TO WASH OFF THE MUCK?
THE WATER OF THE WORD OF GOD.
That He might sanctify and cleanse her with the washing of water by the word, Ephesians 5:26
The Word of God not only makes us clean but builds our faith to face those anxious situations.
So, then faith comes by hearing, and hearing by the word of God. Romans 10:17
As the trial reveals all the muck, we have an opportunity to get rid of it! We give it to God and bathe in His Word. Like the dog who is led to the bath gets clean, when we are led to God's word, we can have faith that it will cleanse us too.
How can a young man cleanse his way? By taking heed according to Your word. Psalm 119:9
When anxious situations come, we don't need to wiggle out of them or sadly tolerate them. Instead, we can face them in faith with our loving God.
FAITH THAT GOD WILL USE IT FOR OUR GOOD.
I will cry out to God Most High, To God who performs all things for me. Psalm 57:2
FAITH THAT GOD'S HOLY SPIRIT WILL GUIDE US THROUGH THEM.
But the Helper, the Holy Spirit, whom the Father will send in My name, He will teach you all things, and bring to your remembrance all things that I, (Jesus), said to you. John 14:26
FAITH THAT THROUGH JESUS, WE WILL BE VICTORIOUS
Like the dog could not wiggle out of his bath, we may not be able to wiggle out of our situation. But when we go through it with Jesus and the water of the word, we will not only come out clean like the dog, but victorious!
Yet in all these things we are more than conquerors through Him who loved us.
Romans 8:37
Maybe we can learn from a dog who happily trots off when his bath is over like nothing has happened.  Maybe after our anxious experience, we too can put it aside and look forward to what is ahead.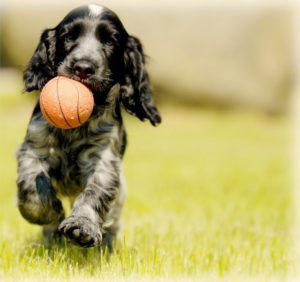 P.S. And don't forget to keep taking that bath! it will keep you clean!
REFLECTION
Are you facing any situations causing you anxiety? Could you find a scripture that you can memorize that can bring you peace?
PRAYER
Heavenly Father, as I write Romans 8:37 and say it aloud, please wash away my anxiety. Help me to build my faith so that I can face anxious situations in faith.
FAITH IN GOD AND HIS WORD WASHES OFF THE MUCK AND HELPS US FACE ANXIOUS SITUATIONS
If you enjoyed or benefited from my blog, please subscribe below for free and like my Facebook page.
Thanks so much!
May your day be filled with love and laughter!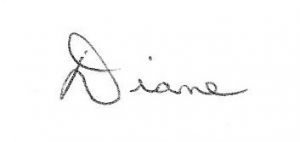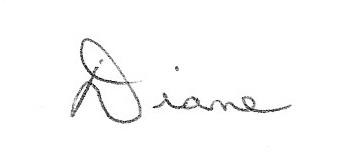 For information on making Jesus Christ your Savior, email me or visit, http://www.peacewithgod.net/
________________________________________________________________________________________________
Photo muddy dog. Sina W., pixabay
Photo dog in tub, Heiko Giesberg, unsplash
Photo baby, Lubomirkin, unsplash
Photo dog with ball, Stainless, unsplash